About This File
Like this mod? Use it a lot? Please consider joining my Patreon. Thanks!
Play on the XBox? This modular version is now available on Bethesda.net for XB1! Since all of the modules (not the core mod, but the plugin modules) are .esl, they shouldn't even count against your mod limit! Bethesda.net | Gruffydd's Signs and Posters - Modular Mod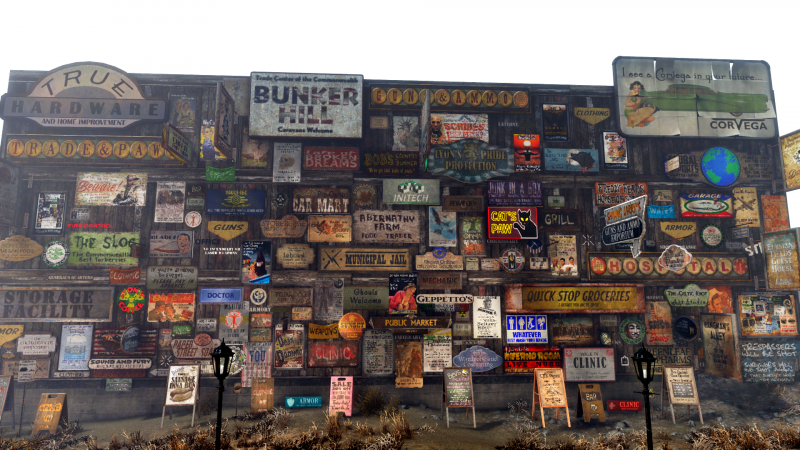 Welcome to the new and improved Gruffydd's Signs and Posters!
GS&P is a Fallout 4 mod that adds more than 900 custom signs, posters, and a few other items, all available in your settlement menus.
You'll also get every vanilla sign or poster I could find, now merged in with GS&P. Formerly, these were in the Signs of the Times add-on mod. Those signs and posters, along with a bunch more newly added, are now all in one plugin for this mod.
So how does it work?
GS&P is now in modular format. This means that you will need the base mod (GruffyddSandP), and then can pick and choose which of the plugins you want to add on. All of the plugins are flagged as .esl, so they won't count against your mod limit.
Just choose the ones you want, along with the base mod. Be sure to install SMM (Settlement Menu Manager) first, though, as this mod uses SMM to add a separate menu, with the stuff inside sorted into different subfolders to reduce scrolling and make it easier to find objects.
Some of the plugins are chock full of stuff, others not so much. It was designed to be expanded later, as I have time to create more stuff. This especially applies to the different factions. Right now the only one I've done a lot on is the Minutemen, but others will come later.
What plugins are included?
Added Settlements - New settlement signs - generic, BoS, Institute and Minutemen - for more than a score of new non-vanilla settlement locations. These are locations that are either obvious choices or ones that were specifically requested, and are for use with mods that add new settlement locations or that allow you to select or create your own.
Businesses - Contains everything that relates to a place of business that isn't included in another category.
ChurchGraveHolidays - A catch-all for anything that might include religious stuff. Churches, graveyards, posters related to holidays, that kind of thing. I got a request from someone a while back to add some items for their religion because it was so underrepresented (as in non-existent) within the vanilla game. I did, and also added in a couple of items for other religions. If you want something added, let me know. If the whole thing offends you, just don't use this module.
Community - All of the community assets, things that a settlement would see as a common resource. Things like schools, a community greenhouse, a community pool, a crafting hall, and a community notice board.
Entertainment - All things entertaining. Music, movies, clubs, billiards, and so on.
FactionsBrotherhood - Everything relating to the Brotherhood of Steel.
FactionsInstitute - Everything relating to the Institute.
FactionsMinutemen - Everything relating to the Minutemen. In addition to generic stuff, there are items added to support three different visions of the Minutemen. The first is a benevolent communal effort, where everyone pitches in to help create a better wasteland. Optimistic if possibly naive. This is what Preston seems to be wanting, as far as I can tell. The second is a militia, organized along military lines. It's there to protect people and settlements and to fight off or eliminate threats. Everything else is up to the settlers to deal with. This is more like what the pre-Quincy Minutemen were, like the ones at the Castle. The third is a dystopian version, where the Minutemen are just as corrupt as any of the "bad guy" factions. The General rules with an iron fist, and dissidents vanish in the middle of the night, taken for "re-education".
FactionsRailroad - Everything relating to the Railroad.
FactionsOther - Anything that's a faction that's not one of the "big four". This includes raiders, atom cats, enclave, gunners, and so on. Right now this is very sparse, but I'll add stuff later, especially if anything specific is requested.
FoodAndDrink - If it relates to food or drink production or distribution and doesn't fit in one of the more specific plugins (ex: Community Greenhouse) it's in here.
GenericAndMiscellaneous - All of the generic signs and other stuff that didn't fit in any of the other categories.
GenericSettlements - All of the settlement signs that aren't affiliated with a faction. If you want the faction versions, they're in the faction plugins.
Graffiti - Various images and text designed to be "spray painted" onto a wall or similar surface. Includes a craftable spray paint object that is needed to make any graffiti. Don't worry, it's easily crafted.
LawAndSafety - Everything related to law and safety. Police/sheriff stuff, warning signs, signs welcoming or warning off certain types of people, that kind of thing.
Lodging - Anything that relates to a place where you can stay. Mostly hotels and motels.
Vintage - Real-world stuff old enough to be out of copyright that doesn't fit in one of the other categories. At this point, it's all WWI and WWII propaganda posters that I thought would go well with the overall theme of the game, set up to look worn and faded.
In addition, there are three other plugins that are "finished", in that I don't expect to be updating them.
SignsOfTheTimes - All the stuff from the old Signs of the Times mod, plus a bunch of other vanilla signs and posters that I found and added. If you're looking for a vanilla sign or poster, it's probably in here.
VegaOne - All of the stuff designed by guest artist VegaOne.
MurkwaterOil - All of the stuff created for a specific build someone wanted to make at the Murkwater settlement location.
Pick the ones you like, leave out the ones you don't. It's that easy.
What do I need to do to install it?
NMM Community Edition: Use the Install From File function (a yellow puzzle-piece looking thing on the left side of your screen).
Vortex: Drop it into the area at the bottom for manually installing mods.
MO2: I don't use it myself, but I've had reports that people using the current version of MO2 have had no problems with manually installing this mod. If you for some reason do, please try a completely manual install (placing the files where they need to be manually, without using MO2, then activating the mod in MO2 once everything is where it needs to be).
Something Else: Heck if I know. There's all sorts of stuff out there, I guess. Read the manual for your mod organizer, and see what it says about manual installs.
No matter how you install it, you will need Settlement Menu Manager (SMM) for this to work, so install that first! Be sure to follow the installation instructions for SMM, or it might not load the mod correctly!
A few addendums:
1) There are probably a few items that are in the wrong category. If you notice one, please let me know. I'll move any identified to their proper location when I get the chance.
2) I haven't figured out how to pack these as ba2 yet. All the tutorials make it sound easy, but it just doesn't want to work for me, and I have no idea what I'm doing wrong. If anyone has a tutorial that shows explicitly how to do it, and is willing to share it, I would love to see it. For the time being, these are all loose files (just as has always been the case with GS&P).
3) If there's something you'd like to see added, ask. I may not include everything requested, but if it appeals to me or sounds like a reasonable addition, I'll see what I can do. All that I ask is to please be specific. Don't say "can you add more Enclave stuff". Ask for specific items.
This mod has taken many, many hours to make, and future updates will take many, many more. If you enjoy this mod and feel like saying thanks by buying me a beverage, or just chipping some cash my way, please check out my Patreon, which you can get to with the link in the icons below. It's pretty bare bones, because I spend my creative time here on the mod, not on Patreon, but know that if you do choose to support me, it's greatly appreciated!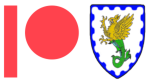 <-- Click these for my Patreon. The one at the very bottom of the page is for AFKMods itself. Thanks!
Thanks!
---
What's New in Version
5.1.2
Released
Added the Graffiti module, which I apparently never actually uploaded before.
Please let me know if you run into any problems with it. Thanks!
---
Permission Grants
General Permissions: No permissions are granted to use this mod in whole or in part in any other work, unless permission is specifically given by me in writing as an exception to this policy.
X-Box 1 Permissions: No permissions are granted to port this mod to X-Box 1, because I've already done it.